LOCKDOWN/QUARANTINE WEDDING
Who would have ever thought that there will come a time in history when everything will be put on hold because of a tiny little monster we cannot even see with our eyes? Times change and so must you. This is the only way a lockdown/quarantine wedding was organised by some couples.
Ever since the initial announcement about the lockdown in Ghana, and all the rules that were attached, I began to think about what will happen to the wedding and events planning industry. And we were been hit by the long silence we couldn't do much about. I know some people who took the opportunity to get their websites set up (something they've been trying do for a while.) In case you fall into this category, kekelibuckner.com is doing an awesome job in providing an online presence for businesses. You should get one too.
So months into the lockdown, we hear about a lockdown wedding done via zoom in Ghana! How innovative! Amazingly, this comes with many advantages for the couple. The planning towards such a wedding was probably a tenth of what they would have had to go through with a normal wedding. With approximately 70%  of the cost off, the couple will save much more and will not have to take any loan as is usually done by some couples, especially in Ghana. Let's go around the world and see how some lockdown/quarantine weddings. were done.
The first lockdown wedding in Ghana
The first lockdown/quarantine wedding in Ghana was done in Lighthouse Church. Mr and Mrs. (Name withheld) did not let the virus get in the way of their plans. One of the most important lessons this period of self-quarantine has taught us is to value the simple things in life and keep them simple, not complicate them.
Obviously, this wedding was done with a few members from both families and streamed to friends and other family members. What I like best about a lockdown or quarantine wedding is the stress-free nature. It eases the stress a couple would go through right from day 1 of planning till the D-day.
Lockdown/Quarantine weddings in the
India
In India, Coronavirus isn't stopping some people from enjoying a dreamy wedding either. Many couples have had their weddings without struggle. As the entire country experiences the third phase of lockdown amid the Covid-19 outbreak pandemic, wedding announcements and celebrations haven't lost their charm.
Lockdown weddings in the United States of America
Many have had to postpone their weddings indefinitely. A few cancelled their weddings altogether (I'm wondering if they really love each other in the first place). But this lovely couple who also couldn't wait took a bold step to tying the knot. They give all the details of how they organised their lockdown wedding. Get the details here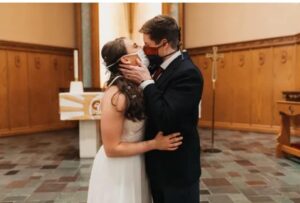 Four more brides, in the United States, share captivating stories of how their weddings went. Take a read.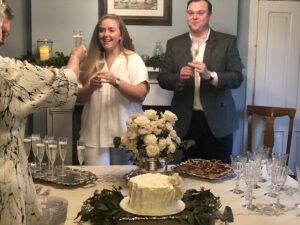 Finally, this video might put tears in your eyes. This beautiful couple also took a brave step to have their wedding despite the quarantine rules. Check it out.
Quarantine/lockdown weddings are a great mark in the history of the world and it will most likely end before the end of 2020. Having your wedding at this time will be a great idea. However, make sure that you are entering your marriage for the right reasons and you are marrying the right person. A good marriage can be the closest thing to heaven on earth and a bad marriage can be the closest thing to hell on earth.
In conclusion, I would like to say that what makes a marriage a good one is not money or a beautiful wedding or the number of people that attended your wedding. What makes a marriage beautiful is the presence of God in it.
"Though one may be overpowered, two can defend themselves. A cord of three strands is not quickly broken." Ecclesiastes 4:12
God is that 3rd person to bind your marriage. No one else can take his place. So if you want a perfect marriage, don't just start at the alter. Give your life to Jesus.